How Much Does It Cost To Paint The Exterior Of My Home In Highlands Ranch?
Pro Painters - Mar 2, 2019 - 3 min read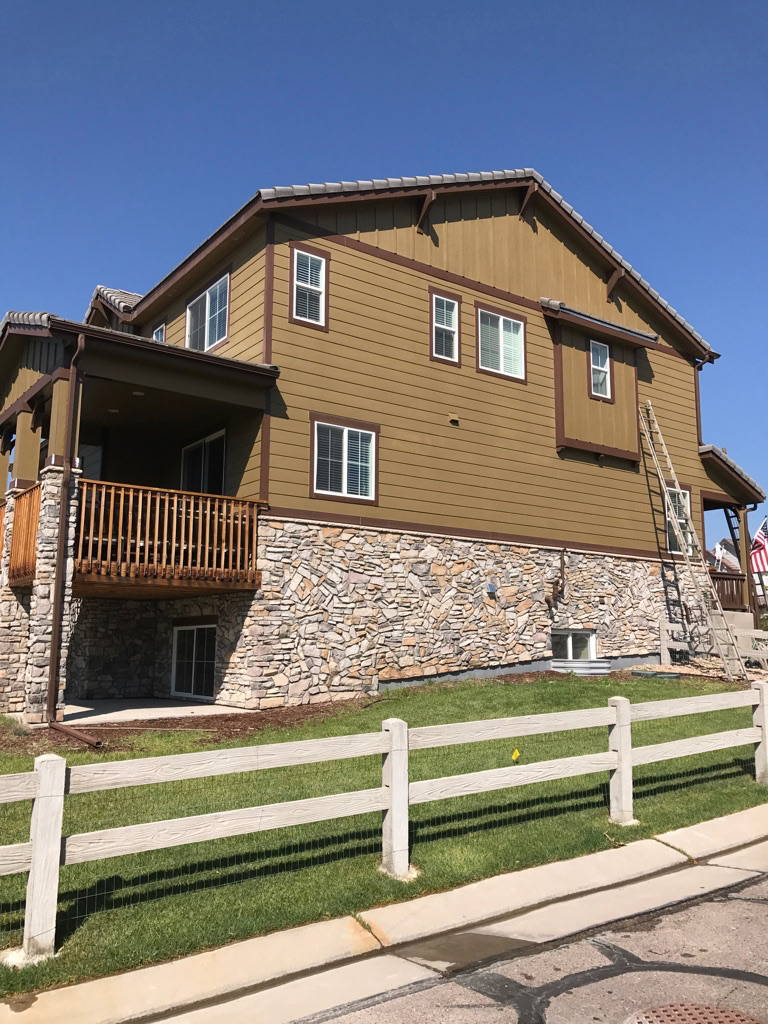 Why Paint The Outside of Your House?
- Prevent water damage on the exterior of your home. Water damage frequently occurs on siding and trim gaps.
- Protects your siding, trim, wood, etc. from normal wear and tear from the sun.
- The value of your home will increase with a quality paint job.
What happens if you don't paint the outside of your home?
The caulking on the house will start to crack along windows, trim, and siding. This will cause water to seep into your home. Waiting to long can cause long term problems like mold, rotting of boards and trim, and in the end costing you more money to replace these items.
The Value of your home will decrease... Buyers are looking for excellent curb appeal and without properly maintaining the outside of your home, this will diminish the value of the home. The HOA will mail letters to homeowners in Highlands Ranch notifying them that they need to paint their home or trim within an allotted time.
How to avoid a letter from the Highlands Ranch HOA?
Street facing sides of home must always be properly maintained. Specific people drive through Highlands Ranch looking at homes every day. These people are looking at your house from the street so if you maintain street facing sides this will help to avoid getting that unsuspecting letter from the Highlands Ranch Community Association. (HRCA-HOA)
The professional way to paint a home?
- Pressure wash/clean the entire outside of your home. This allows the dirt, debris, and loose paint chips to come off allowing the paint to adhere to a clean surface. Pressure washing your home will also reveal spots where paint has not properly adhered to a surface.
- Scrap any remaining lose paint. The surface will be sanded down to even out the old paint and the bare wood.
- Caulk all seams, gaps, and cracks along siding, trims, and windows.
- Apply primer to any bare wood surfaces so the paint will properly adhere to the surface. Primer sticks to bare wood while paint sticks to primer.
- Use wood fill on any boards that are starting to rot, but still have life in them.
- Mask all windows and cover items on the home that should be protected from over spray.
- Spray two coats of paint on all siding. - Spray/Brush and roll all trim on the home (we do both)
- Clean up all materials and make sure the home is sparkling.
- Walk through with the home owner to make sure all specifications are met and no touch ups need to be done.
Should I use a low or high grade paint when painting my home?
We recommend using Sherwin Williams products. Using a low or high grade paint all depends on what you want for your home.
A-100 (Low grade paint)
We recommend using this type of paint if you are on a tight budget. If you plan on moving out of your home this paint would be a good option.
Resilience(Medium grade paint) This paint is offered with a two year warranty that covers chipping paint, caulking that has cracked, or paint that has started to fade. This type of paint is ideal for homeowners that are planning to be in their homes for sometime.
Duration (High grade paint) This paint is offered with a five year warranty. This warranty covers chipping paint, caulking that has cracked, or paint that has started to fade. This paint is double the thickness when applied to your home. This helps with the longevity of the paint and is also great in preventing dark colors from fading on your home.
How much does it cost to paint my home in Highlands Ranch?
- A-100 paint costs between $3,000-5,000
- Resilience paint costs between $3,600-5,600
- Duration paint costs between $4,100-6,100